Ice cream for those who never have enough
It is the genuine Italian ice cream, capable of satisfying everyone thanks to its packaging which can contain up to four variations of ice cream.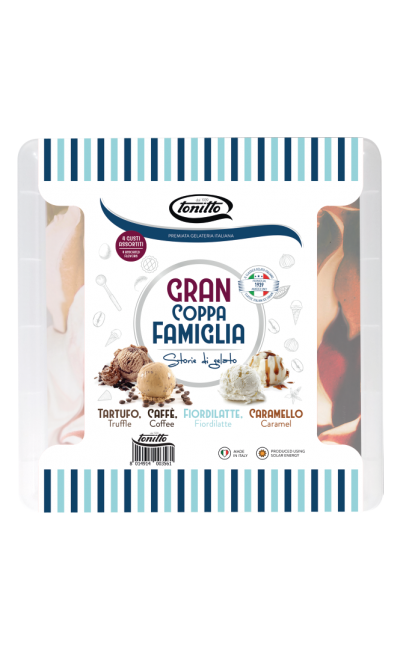 The characteristic taste and texture refer to the tradition of classic Italian ice cream. Its recipes are the historical ones of the Tonitto 1939 ice cream shop, specially revisited to meet modern consumer needs, bringing stories of award-winning ice creams to the table of consumers with the convenience of an everyday price.
The Gran Coppa Famiglia does not contain preservatives and GMOs. It is available in a wide range of taste variants combined four to four: Hazelnut, Nougat, Cream, Chocolate; Lemon, Melon, Watermelon, Coconut; Spanish, Eggnog, Pistachio, Cocoa; Truffle, Coffee, Fiordilatte, Caramel; Hazelnut, Tiramisu, Cream, Stracciatella.